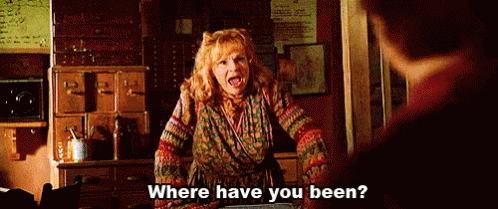 Eight years ago today, on my 25th birthday, I started this blog. Since then, I don't think I've ever taken a five month hiatus… but there also weren't any global pandemics in that time. As much as I've enjoyed chronicling my day to day and making self-deprecating jokes, as much as I love viewing snapshots in time of my life and my person, I just… haven't been able to bring myself to share these last few months, because 2020 is kicking my ass.
For nearly 10 years, this blog has predominantly been a positive form of self-expression. Sure, I've shared tales of frustration with bad dates or disappointment over friendship breakups or work woes and stress, but never have I experienced a full year of devastation… at least not since that 25th birthday.
Jake and I are okay. If anything, this wretched year has made our marriage stronger. I know it's made me love him more. As for the reverse, well, if I didn't really know why he liked me before, I definitely don't now, because I'm a complete and utter mess. We're both still employed in our fields. He's actually looking at a promotion. Our pandemic suffering has not been a career crisis, but I can't bring myself to share all of the horrible details as they unfold, because I don't want to look back on my worst year since 2010.
I've been making annual photo albums, through Mixbook, for years. I started with 2010 and began working my way to present day in 2013. I've always been a record keeper, even in my teens, when I carried a film camera to school every day, until I upgraded to digital. I eventually scanned every one of those photos into an album and had it printed, as well. My Mixbooks are one of the first things I'd grab under a tornado warning and I can barely bring myself to compile 2020's. It's a good thing I've forced myself, regardless, because I guarantee that I'll have no desire to look back and create it later… something I genuinely enjoy and which makes me feel immensely grateful for my life and all the blessings in it.
So, today, on my 33rd birthday, I'm updating you. Where have I been? I've been at home… almost exclusively. I've been at the library, where there are almost no customers. I've been wiping down tables in gloves and a mask and goggles. I've been spending days in bed, because I can't bring myself to get out of it, sometimes watching Netflix and sometimes doing nothing. I've been missing my family and friends and normalcy. I've been crying… a lot. There's of course more to all of this and I will share in time, but the pandemic has hit me hard… and that's not a snapshot I'll want to view in five years.
This blog has long been my pride and joy. I'll try to post more, perhaps sharing my thoughts on the 25 classics I've vowed to read this year or who would make a better president than our current terrible options. I am not gone… just coping. Thank you for sticking with me. Check on your friends.