My new year's resolution for 2020 was to read a minimum of 52 books, half of which were not dragon erotica. Since my library teens still have to read the classics and I never actually read any, myself, I decided those 26 titles would be undoubtedly considered classics. I've surprisingly enjoyed most of my choices, as evidenced by my review of the first seven, here. So, I present, books 8-13.
8. Anna Karenina, by Leo Tolstoy ⭐
I'll be blunt. I have never before finished a book I hated as much as Anna Karenina. I am so tired of people who loved this book telling me that I just didn't understand or read it thoroughly. Classics are almost as bad as politics in that, if someone doesn't agree with another person, they must be less intelligent or not know all of the facts, because we're all arrogant assholes, incapable of respecting different opinions. Not only did I read this book, I also read many analyses on this book, to make sure I fully understood it, after these insistences. I did and I still hated it. If you love this book and consider it the greatest work of literature ever, I respect that, but you might not want to read further.
Anna Karenina tells the story of Russian socialite, Anna's, affair with Vronsky, some dude she saw for four minutes on a train and for whom she decided to throw away all of her social standing and clout, cuz feeeelz, despite knowing the society she lives in and the consequences of an indiscreet affair. Women are stupid that way. s/ As Anna falls deeply in love with Vronksy, her husband, Karenin, essentially demands discretion or divorce. Selfish cow that Anna is, she denies both and nearly dies birthing Vronsky's child. Karenin forgives Vronksy, which embarrasses him and he tries and fails to kill himself. Ultimately, Anna and Vronsky run away together, with Anna forfeiting her son, because she is a horrible, wretched person and ultimately being shunned by society, no matter where she goes, while growing more and more insecure of Vronsky's affection. Finally, in the best scene in both the terrible book and the terrible movie, she throws herself under the train and I have a new fandom: the train from Anna Karenina.
Alongside this story, we read the tale of Kitty, Levin, and farming. Kitty, Anna's young sister-in-law is also infatuated with Vronksy, so certain that he'll propose to her that she turns down the good and honorable, if provincial, Levin, only to have her heart broken, when she realizes that Vronsky never had any true intentions toward her. Over the next year, she spends time in grief and self-reflection, mourning her mistake, and because she's a very good girl, Levin comes back and asks her to marry him again. She says yes and they move to the country, where there's farming and tilling and plowing for entire chapters, in a needlessly drawn out symbolic message of "idleness and city life bad, hard work and rural life good." Kitty ends up happy and Anna ends up dead. The end.
This book is 864 pages long, so the above summary is of course oversimplified. I've read that the book isn't supposed to be about likable characters and I get that. I liked The Great Gatsby, because it was beautifully written about awful people. This wasn't. Anna Karenina is the kind of classic that makes people hate classics, because everyone claims it's amazing.
Why is Tolstoy above reproach for the writing tropes we mock today? Let's start with the instalove. There was no explanation for Anna's affection for Vronsky. I get it, she wasn't really given the chance to choose her path, but poor women weren't either, and many of them remained faithful, even after four minutes on a train with another man. Her husband wasn't abusive or cruel. Despite the ridiculous arguments I had on Reddit about this book, there is zero evidence that Karenin mistreated Anna. He even raised her illegitimate child. He was kind, if distant, and she had literally every thing she wanted. She was doing pretty damned good for 19th century Russia, so when she threw it all away, I needed a reason… besides boredom. If Tolstoy had written a compelling love story between Anna and Vronksy, I could've felt a lot more for Anna, torn between her head and her heart. However, she literally throws away everything, including her son, for this man she barely knows and we're never told why. Even if it was adventure and excitement, which I don't buy considering her unexplained obsession with Vronsky, she didn't do anything with Vronsky she couldn't have done with Karenin. No. It was instalove and vaginal tingles and that's just as stupid as when modern romance novelists do it.
As for Kitty and Levin… I don't hate their storyline, but I'm often told that this book was feminist and are you fucking kidding me?!?! There is not a single point, in this book of 732 characters, where Tolstoy introduces a woman who is more than one-dimensional. His lead females are The Madonna and The Whore. Kitty keeps her legs closed and her eyes down and gets the life she wants. Anna follows her passion and ends up under a train. Even the female side characters are vapid and shallow hens. This book is not feminist, no not even for the time period, in part because we get no compelling reason for Anna's actions. She's just a bitch in heat, as far as Tolstoy is concerned, a slave to her baser nature. The fact that society treats her differently than her lover doesn't even garner much feeling, because she was the one who was married. While her brother was treated differently for his affair and that might have had some merit with different telling, the execution of this tale just painted a picture of a horrible woman I was glad to see die, as opposed to a woman caught up in a double standard. If the reason this book was empowering was Kitty's personal growth and self-improvement, Louisa May Alcott told that story much better, and much more quickly, in Little Women.
Then there was the length. So much of this book is filler, dragging out a poorly told story about awful people, that I wasn't sure I'd be able to finish it. I've read long books. I've read books about horrible people. I've read long books about horrible people. I've mentioned several times that I love Steinbeck, but his filler is interesting or pivotal to the storyline. Tolstoy is just in love with himself and takes full advantage of a lack of more entertaining pastimes to ramble on about nothing for almost 900 pages, because the people of the 19th century couldn't discreetly download alien erotica for a better time.
So there you have it. I hated everything about this book, aside from the Kitty/Levin plot, which was still simplistic and preachy. I hated the characters, the writing, the oversimplified themes, the Poor Little Rich Girl plot, the length, and my favorite character, by far, was the train. I'm glad I read this title halfway through the year, because this is truly the kind of classic that makes people hate classics. I give Anna Karenina a single begrudging star.
9. The Old Man and the Sea, by Ernest Hemingway ⭐⭐⭐
Yes, I Googled "shortest classics" again. However, I surprisingly enjoyed this audiobook, which was only two hours and some change. It told the depressing story of a fisherman who meets his ultimate opponent, the marlin that will bring him glory, only to hook him but fail to reign him in, as he's pulled further out to see. Eventually, both the old man and the marlin face defeat, as the man makes it to the shore, his glorious catch mostly devoured by sharks.
That's pretty much it. There's not much more to the summary of a two hour book, nor was there a way to avoid that spoiler, but it was well-written and engaging, as it painted a picture of ultimate futility. Honestly, it's brevity was what I liked most and not just because I wanted to check another book off my total. It made for a more exciting story and a more relatable protagonist. It was a simple tale, told simply, with no forced happy ending. I give The Old Man and the Sea three stars.
10. The Jungle, by Upton Sinclair ⭐⭐⭐⭐
Upton Sinclair's, The Jungle was assigned to me in my high school AP U.S. History class. If I recall, I read about half of it, before the English teacher everyone hated ruined the ending for me and I quit. I do remember thinking it was boring and depressing and that the names were all very confusing, so I wasn't really looking forward to reading it, this year. Y'all, this was one of my favorite books. While the Lithuanian names were indeed a bit confusing, I listened to the audio, which substantially mitigated my troubles and I'd highly recommend the same, if you have similar struggles.
The Jungle tells the story of Jurgis Rudkus, who starts off as a brawny, hardworking immigrant, eager to support his family. Despite overcrowding of immigrants wanting a job in the Chicago meat packing district, Jurgis finds work immediately, as a strong and hardy man, as do the other members of his large family. Despite their dreams and willingness to work for them, however, the Rudkus family is doomed from the start, by the sheer number of every day villains, waiting to take advantage. I can say little more about the plot, without ruining the story for you, but I found Jurgis and his family to be compelling portrayals of immigrants done wrong, who can therefore never catch a break. The only criticism I have of this story is that the last chapter reads as Upton Sinclair's personal Socialist manifesto, which really didn't fit the tone of the book, regardless of my political opinions.
Speaking of which, I am a Capitalist. I consider our system flawed, of course, but I also think it's the only political system that will ever work in the United States, agreeing with Theodore Roosevelt that "Radical action must be taken to do away with the efforts of arrogant and selfish greed on the part of the capitalist." That being said, the political themes of this work didn't turn me off until the end, when they became overtly preachy. Before that, they were both organic and historically accurate. The turn of the 20th century was a dark time to be alive and anyone who says we haven't come a long way isn't paying attention, as The Jungle is largely credited with the creation of the 1906 Pure Food and Drug Act and the Meat Inspection Act, due to the deplorable and stomach-churning conditions outlined in this book, despite Sinclair's intent to call attention to the absues of workers. In time, however, that has clearly improved, as well, since pickle factory workers no longer lose their feet. I give The Jungle four stars and warn the reader that there really is no happy ending.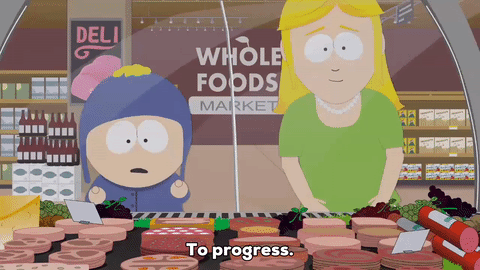 11. The Pearl, by John Steinbeck ⭐⭐⭐
For me, John Steinbeck is the author I love, while completely understanding others' distaste for him, as he's often overly wordy and descriptive. This was a novella, however, so I got all the bleak joy of Steinbeck in just a couple of hours.
The Pearl tells the story of poor pearl diver, Kino's, discovery of "The Pearl of the World," that one pearl that will make him rich beyond his wildest dreams, just when he needs it most. His fortune almost immediately turns sour, however, with the doctor he needs trying to overcharge him, market buyers trying to swindle him, and even blatant thieves coming after him.
As Kino and his wife, Jauna, escape into the night to find somewhere to sell the pearl, tragedy strikes and Imma just give you the #deadbaby trigger warning. Kino and Juana make their way back to their home, realizing that the pearl was never a blessing, but a curse as Kino heartbrokenly flings the pearl back into the ocean, scorning mans greed and inate evil.
Have you ever read those stories about people who win the lottery, only to have it completely destroy their lives? That's essentially The Pearl, as Kino's world is torn apart by finally acquiring the riches he's spent his life seeking. No amount of wealth can overcome the doctor's racism and avarice. His community and friends turn against him. Strangers chase after him, bringing the ultimate tragedy down on him. It's not a happy tale and doesn't have a happy ending, but I enjoyed the bleak symbolism, despite occasionally feeling that the better path would be obvious, even to Kino. I give The Pearl three stars.
12. Alas, Babylon, by Pat Frank ⭐⭐⭐⭐
Not a single person has recognized this title, when cited, but Alas, Babylon is a classic post-apocalyptic novel, set in 1959, during the Cold War. The premise sees the scales tipping, when through a series of unfortunate events, the Soviet Union perceives a first strike and attacks the United States, wiping out all power and communication in fictional Fort Repose, Florida.
Randall Braggs is living an aimless life when his older brother, an Air Force Intelligence officer, warns him that the world is essentially about to end and sends his own family to Florida, in hopes of securing their safety, while he stays behind in Nebraska, knowing he won't make it, himself. Randy finds himself the keeper of his grieving sister-in-law, nephew, and niece, in addition to a band of townspeople, including the spinster town librarian (fuck you, Pat frank), the Black farmers up the road, his girlfriend and her family, and the local doctor after "The Day," when the entire state has become a contaminated zone. Throughout the book, the group faces many threats, from lack of food, to illness, to highwaymen, as they try to survive the aftermath the blast.
I won't lie and tell you that this book necessarily holds up well in 2020. At times, it's both racist and sexist. Though Randy is considered a "progressive" in his rural township, in the context of Alas, Babylon, that just means that he considers Black people to be humans, ranking slightly above women. I do not have a hard time putting these things into context, for the day they were written, but I could certainly understand if they weren't someone else's cup of tea, so consider that a trigger warning of sorts.
Aside from the above, Alas, Babylon is a great read. Where many modern post-apocalyptic media leans too heavily on clichés and tropes of the genre, such as the diabetic and the prepper uncle, this one stars a protagonist who has very little warning of the coming blast and actually regretted some of the preparations he forgets. Since many of the men are recent veterans of the 1950s, their survival instincts are far more organic than that of Rick Grimes. The struggles they face are ones few would consider today, such as a lack of salt and their solutions are clever, without reaching. Jake hates when I read this stuff, because I always want to order bugout bags and that backpack you can put your cat in for travel, but if I could find more titles like Alas, Babylon, I'd devour them. I give Alas, Babylon 4 stars.
13. Brave New World, by Aldous Huxley ⭐⭐⭐
I think I mentioned, in my last post of reviews, that 2020 was the wrong year to read a bunch of weird political dystopian novels, but I must say, Brave New World was probably my favorite of the genre, due to it having so many parallels to modern day society, while still managing to be delightfully bizarre.
The book begins with world building, as we see different classes of society being conditioned from birth to appreciate their lot in life, from babies being trained to fear sunshine and flowers to older children learning acceptance and docility through "sleep learning." These things are a stretch for modern civilization, but Huxley then goes on to describe a society that encourages children to experiment with one another sexually and derides adults who practice any sort of monogamy, including playing favorites with one of their many lovers. The concept of parenthood and pregnancy are ones of shame and disgust, as are aging and religion and it is the societal norm to dose oneself with Soma to rid the mind of all negative thoughts and emotions.
Upon threat of being sent to Iceland for his vocal criticisms of World State, our protagonist Bernard takes a trip with his favorite gal, Lenina, to visit the "savages" on a New Mexico reservation. There, they feel disgust for all they see as these people value religion and actually repair their clothing (shudder). It's here that Bernard and Lenina discover a woman from their own society, who was abandoned years ago and committed the disgusting and shameful crime of birthing a child. They return to London with her and her now-grown "savage" son in tow and all hell breaks loose.
I read Brave New World in college and it remains my favorite dystopian novel. Both U.S. political parties like to compare the other to 1984, but I find that to be much more far-fetched than the general societal norms of Aldous Huxley's world of mandatory promiscuity, waste, and assumed drug use. Meanwhile, there are just enough weird quirks, like the engineered classes of Alphas, Betas, Gammas, Deltas, and Epsilons to keep this book firmly in science fiction territory, as opposed to relegating it to the more political fiction of Orwell or the symbolic story of We. I give Brave New World three out of five stars.